'Precision Growing' literally translates into growing more, with fewer inputs. In this context GRODAN focuses on root zone management solutions, yet understands the need for a holistic approach towards the cultivation. This chapter describes 'Precision Growing' with respect to root zone management. It focuses on substrate choice; design and use with respect to optimizing the water supply. This chapter consists of four parts. We first give some basic background information about root zone management in relation to substrates. Subsequently we provide detailed advice about irrigation during the first weeks of a new crop; during the main harvesting period and towards the end of the cultivation cycle.
Why root zone management?
A targeted water and nutrient supply will improve crop yield and fruit quality. This can be achieved by accurately steering substrate water content (WC)
and the electrical conductivity (EC) in line with the incumbent climatic conditions and generative / vegetative plant balance.
Choosing your substrate
The choice for substrate is made prior to the start of each cultivation cycle. Sometimes organic (coco) substrates are chosen as they are perceived by some growers as making their cultivation more sustainable. This is not true. A study commissioned by GRODAN and conducted by Blonk Milieu Advies revealed that the environmental impact of both substrates was similar. The study concluded that the 'growing medium alone makes a negligible contribution to the total environmental impact of greenhouse production. However changes in production practices related to energy management and the use of fertilizers will have a massive effect on the overall environmental performance'. Of course in respect to fertilizer use this means recycling from day one of the cultivation, operating within a closed hydroponic system whilst working with a structured irrigation strategy and at all times an accurate fertilizer composition.
Substrate design
With the introduction of Next Generation 2.0 (NG 2.0) substrates GRODAN are focused on the relationship between WC and EC within the substrate and how these two parameters can be steered by the grower to ensure optimal growth and fruit quality (Picture 1). In this way we help the grower to address the major challenges facing greenhouse production, such as limiting energy input due to rising energy costs and conforming to legislation aimed at drain water discharge from the greenhouse. GRODAN NG 2.0 substrates are made of inert hydrophilic fibres, they have high irrigation efficiency and they are uniform which means structured irrigation strategies can be adopted by the grower.
Inert hydrophilic fibres
GRODAN slabs are made from basalt rock which is sourced from quarries in line with strict environmental regulations. In our factories in The Netherlands, Canada and Poland the basalt is melted and spun into fibres. During the process, the fibres are coated with a hydrophilic binder which helps to spread the water and nutrients evenly throughout the slab. The fibres are inert so they do not lock up any nutrients and the chemical stability of the slabs means drain water can be recycled from the beginning of the cultivation cycle.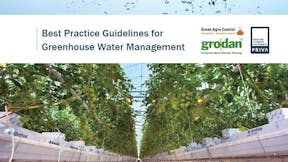 Best Practice Guidelines for Greenhouse Water Management
This guide has been written to provide greenhouse owners and managers with an overview of the current best practices for the application and recycling of water and nutrients in the greenhouse.