In a joint trial conducted in 2022, Grodan and F1 SeedTech demonstrated that it is possible to increase the gross margin in cannabis cultivation by a minimum of 15%. This will come as welcome news to many growers, who, now more than ever, are actively looking for ways to improve their facilities' efficiency. Whether it be the price pressure caused by an increasingly saturated market or the rising costs of energy and other major inputs, finding a way to boost efficiency and reduce costs while maintaining quality is the key. That said, given the recent flood of new entrants into the North American market, many growers are finding it difficult to remain profitable.
In an effort to help growers find new ways of saving costs, Grodan and F1 SeedTech joined forces to conduct an 11-week trial in conjunction with Wageningen University and Research (WUR) in the Netherlands. The results left both parties excited about the future and potential to facilitate the next steep upswing in the innovation of the cannabis industry,
Read more about the exciting outcome of this trial and what Grodan and F1 SeedTech have planned next in our latest whitepaper, "The future of cannabis cultivation."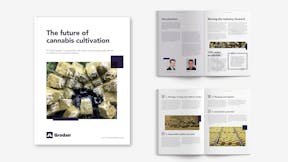 The future of cannabis cultivation
F1 hybrid seeds in combination with Grodan stone wool growing media are set to transform the cannabis industry.