Most cannabis cultivators—whether focused on growing for the adult-use or medical markets—have two major challenges to contend with. One is to maximize yields to ensure profitability. The other is to maintain consistency through every step of the growing process, from seed to sale. The goal is to produce as many plants as possible in a given crop with the same flavors and potency—and to reproduce that consistency from harvest to harvest, year after year.
The path to meeting that goal looks different for different growers. Some brands are focused on pheno hunting—seeking new cannabis cultivars and breeding hybrid cannabis plants to produce select characteristics—so they can regularly release new strains to a consumer market that prizes novelty. Others work to perfect single strains favored by medical cannabis patients to alleviate a variety of symptoms, and to develop seeds that have all the predictability of non-cannabis crops like corn and tomatoes.
Cannabis clones have been popular for years as a means to accelerate production timelines and increase consistency across crops. However, storing clones in mother rooms or strain libraries takes up valuable space that could be used for bench rooting, vegetating and flowering cannabis plants. They also require input resources and manpower to maintain and are susceptible to viruses that can threaten whole crops.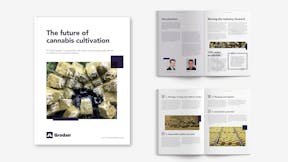 The future of cannabis cultivation
F1 hybrid seeds in combination with Grodan stone wool growing media are set to transform the cannabis industry.